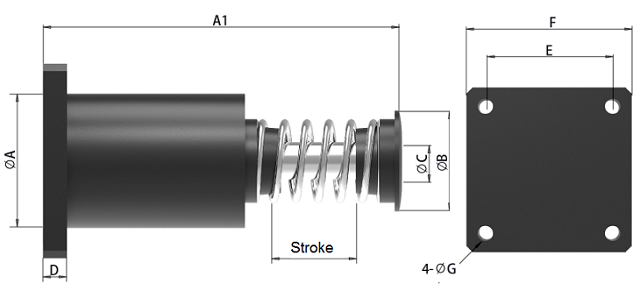 Parameters
Model
Stroke
(mm)
S
Max.Energy/Cycle
(KJ)
E

T

Max.Energy/Hour
(KJ/h)
E

T

C
Max.Damping
Force
(KN)
Fp
Recoil Force
(KN)
Weight
(Kg)
Min.
Max.
BHS64-50
50
0.5
10
12.5
65
148
3
BHS90-50
50
4
80
100
142
305
8.5
BHS90-75
75
6
108
100
105
190
9.5
BHS90-100
100
8
128
100
99
420
12
BHS100-50
50
4.4
79
110
142
305
14
BHS100-100
100
8.8
140
110
99
420
17
BHS130-70
70
10
170
179
182
425
21
BHS130-100
100
15
270
188
178
480
24
BHS130-150
150
21
294
175
183
535
28
BHS170-80
80
24
432
375
182
443
38
BHS170-150
150
45
630
375
183
535
48
BHS190-100
100
40
720
500
178
480
52
BHS190-150
150
60
840
500
183
535
64
BHS220-100
100
44
792
550
405
1340
69
BHS220-150
150
66
924
550
418
1310
76
BHS250-100
100
60
1080
750
385
1110
130
BHS250-150
150
90
1260
750
342
1080
140
BHS250-200
200
120
1560
750
330
1050
150
BHS250-300
300
180
2160
750
380
1220
170
BHS300-150
150
117
1638
975
460
1420
186
BHS300-250
250
180
2340
1125
450
1510
206
BHS340-200
200
200
2600
1250
510
1620
275
BHS340-300
300
300
3600
1250
490
1760
305
BHS360-250
250
294
3822
1470
680
1780
324
BHS360-400
400
470
4700
1470
640
1820
376
Dimension (Unit:mm)
| | | | | | | | | |
| --- | --- | --- | --- | --- | --- | --- | --- | --- |
| Model | A1 | A | B | C | D | E | F | G |
| BHS64-50 | 200 | 64 | 42 | 20 | 12 | 65 | 90 | 11 |
| BHS90-50 | 240 | 90 | 78 | 30 | 16 | 100 | 130 | 14 |
| BHS90-75 | 280 | 90 | 78 | 30 | 16 | 100 | 130 | 14 |
| BHS90-100 | 360 | 90 | 78 | 30 | 16 | 100 | 130 | 14 |
| BHS100-50 | 240 | 100 | 84 | 30 | 16 | 100 | 130 | 14 |
| BHS100-100 | 340 | 100 | 84 | 30 | 16 | 100 | 130 | 14 |
| BHS130-70 | 290 | 130 | 98 | 35 | 19 | 130 | 170 | 22 |
| BHS130-100 | 350 | 130 | 98 | 35 | 19 | 130 | 170 | 22 |
| BHS130-150 | 490 | 130 | 98 | 35 | 19 | 130 | 170 | 22 |
| BHS170-80 | 360 | 170 | 98 | 50 | 22 | 170 | 220 | 26 |
| BHS170-150 | 500 | 170 | 98 | 50 | 22 | 170 | 220 | 26 |
| BHS190-100 | 440 | 190 | 98 | 60 | 25 | 220 | 280 | 33 |
| BHS190-150 | 540 | 190 | 98 | 50 | 25 | 220 | 280 | 33 |
| BHS220-100 | 440 | 220 | 116 | 60 | 25 | 220 | 280 | 33 |
| BHS220-150 | 540 | 220 | 116 | 60 | 25 | 220 | 280 | 33 |
| BHS250-100 | 480 | 250 | 138 | 70 | 32 | 250 | 320 | 33 |
| BHS250-150 | 650 | 250 | 158 | 70 | 32 | 250 | 320 | 33 |
| BHS250-200 | 750 | 250 | 158 | 70 | 32 | 250 | 320 | 33 |
| BHS250-300 | 880 | 250 | 158 | 70 | 32 | 250 | 320 | 33 |
| BHS300-150 | 650 | 300 | 170 | 80 | 36 | 300 | 400 | 33 |
| BHS300-250 | 850 | 300 | 170 | 80 | 36 | 300 | 400 | 33 |
| BHS340-200 | 800 | 340 | 228 | 100 | 45 | 340 | 440 | 39 |
| BHS340-300 | 1000 | 340 | 228 | 100 | 45 | 340 | 440 | 39 |
| BHS360-250 | 900 | 356 | 280 | 100 | 45 | 360 | 460 | 39 |
| BHS360-400 | 1200 | 356 | 280 | 100 | 45 | 360 | 460 | 39 |
Installation and Routine inspection & Maintenance Notice
Installation request: Stroke length below 300mm, the max side load angle is 2.5°; above 300mm, the max side load angle can be 1°; make sure all set screws are fixed, recommend using thread glue.
Routine inspection & Maintenance:
xIn order to enlarge the buffers life span, if the buffer is used in safety emergency application, we recommend you to do the maintenance every 6 months. If the buffer is frequently used, please maintain it every month, details as below:
1. Piston Rod should be handled carefully not to be damaged or scratched, clear up the dusty and corrosive, coating oil to avoid rusty.
2. Please check rod seal to see if oil leakage or not.
3. Whenever necessary, please check the locking condition of Bolt and set screws at any time and fasten tight due to the strong impact
4. Please check the expansion & recovering status of piston rod, compare with the dimension when piston rod completely restored in catalogue. If can't be fully restored, please add pneumatic in air bag, you can ask us to get operation manual.